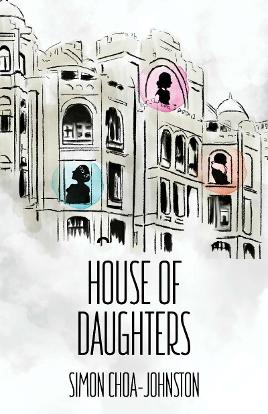 click winner for the Press Release
Western Canada Jewish Book Awards 2023
Nancy Richler Memorial Prize
for Fiction
New
Shop at any Black Bond Books in Vancouver and Surrey
Shop at Iron Dog Books, 2671 East Hastings, Vancouver
Meet the Author Thursday June 8th at 1:30pm, Beth Tikvah, 9711 Geal Rd. Richmond click here
Meet the Author @ LiterAsian Writers Festival, May 6th & 7th click here
Read Immigrant Story click here click stories, click Choa-Johnston,Simon
Listen to McMaster University podcast click here
HOUSE of Daughters
In 1920s Hong Kong, a rich Jewish-Chinese matriarch, her daughter and granddaughter race against time to confront the legacy of a deadly curse.

Available NoW
In Vancouver: Iron Dog Books 2671 East Hastings
For on-line purchases in North America and Europe go to IndigoChapters or Amazon
for Asia go to Earnshaw Books

Booksellers, please go to Earnshaw Books
Read a sample click HERE
Praise for Simon's work
"Full of Chinese superstitions, religious struggle, and clever wordplay..." Julia Lin, VP, The Writer's Union, author of "Miah"
"Simply astonishing and impossible to put down..." Janie Chang, author of "The Library of Legends"
"A front-row view of the opium trade, the Eurasian high life, and colonial racism in Hong Kong during the early 20th century," Cheuk Kwan, director of "Have You Eaten Yet?
"Sublime storytelling..." Terry Fallis, author of "No Relation" and "Poles Apart"
"This epic novel will not leave you alone..." Joseph Kertes, author of "Winter Tulips" and "Gratitude"
"In this richly imagined tale, Simon fleshes out his exotic ancestry..." Plum Johnson, Charles Taylor prize, "They Left us Everything"