INTERNATIONAL RIGHTS: FICTION
Hebrew-language rights to Simon Choa-Johnston's novel THE HOUSE OF WIVES, about the opium trade in China and the Jewish man from Calcutta who cultivated it from Hong Kong while juggling two wives, have been sold to Keter by Geula Geurts of the Deborah Harris Agency on behalf of Denise Bukowski at The Bukowski Agency. The novel was previously published in 2016 in Canada and India by Penguin.
go to McMaster university podcast
Go to Vancouver Sun Interview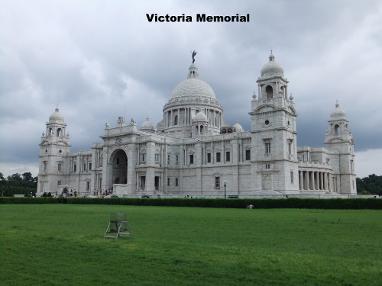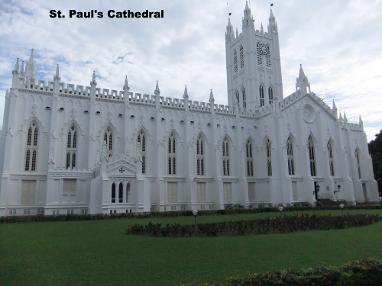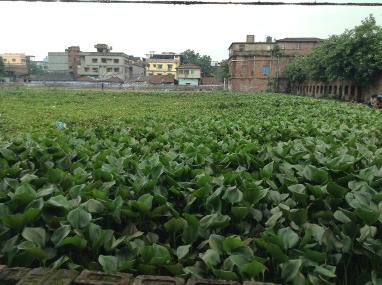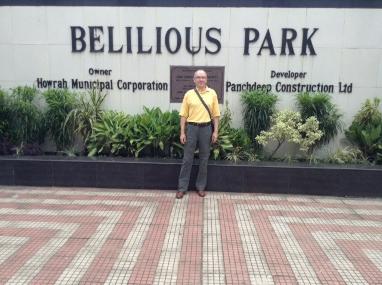 Calcutta (now re-named Kolkata) was once known as the City of Palaces and it's easy to see why as soon as you drive anywhere in Chowringhee District in the former capital of British India. I've been there twice to research my family's roots. The Belilios family were probably part of the Spanish migration during the middle ages and I found evidence of their presence in Venice's Ghetto district. From there they settled in Basra, Iraq for a few generations before following a great migration south to escape persecution finally arriving in Bombay (Mumbai). The Belilios family sensing better opportunities in Calcutta folded their households and resettled in Howrah across the Hooghly River and within sight of the magnificent City of Palaces that was selected by the British colonists as their capital in India.
Enormous Roman and Greek revivalist buildings dominate as they once did although they are a little worse for wear, weary from decades of neglect and harsh lashings of weather. However, wide streets and generous sidewalks, parks and cathedrals, boardwalks and gracious hotels stand as testaments of a once grand, white, and new city that was designed to remind expatriates of London their beloved English capital.
15 million people live there today in an area meant to accommodate a few hundred thousand. The sidewalks I saw were crammed shoulder to shoulder with pedestrians who live on the streets. Families comprising Mom, Dad and a couple of kids, eat sleep and bathe on a staked out patch marked by an old carpet, or a tarp or chalk lines. I saw children collecting scrap metal and food off hillocks of garbage, attended by their mothers who carried a make-shift cloth bag, no doubt containing their harvest.
Despite the culture shock I did manage to find two synagogues. There are not enough Jews in the city to form a minyan and so they remain empty but preserved as though they were waiting for a service to begin. Three caretakers still light Shabbot candles and transport them from one sacred space to the other. Ironically, the caretakers are all Muslim.
On the following day I drove pass Belilios Park - the location of my ancestors' estate in Howrah across the Hooghly River. I couldn't get close because my taxi driver was unable to drive through the throngs of people living in the streets that led to the park. Determined I asked my friend Rig David to assist and we returned the next day. As a local, he was able to translate for me and he found the entrance. The now public area is the size of Central Park in NYC. I was awed by the thought that one family used to occupy all that land. No palaces are visible today only the old guard house.
I stood on the property looked out on a vast expanse of lily pads and gave my imagination full rein. The results are in the first quarter of my novel.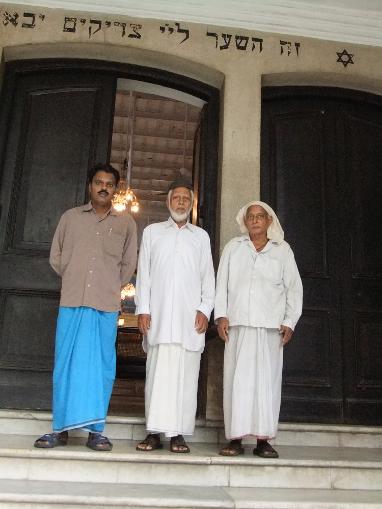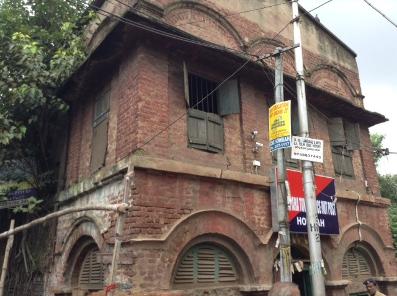 Left: Three caretakers at Magen David, Kolkata
Above: The Guard House & Stable near Belilios' estate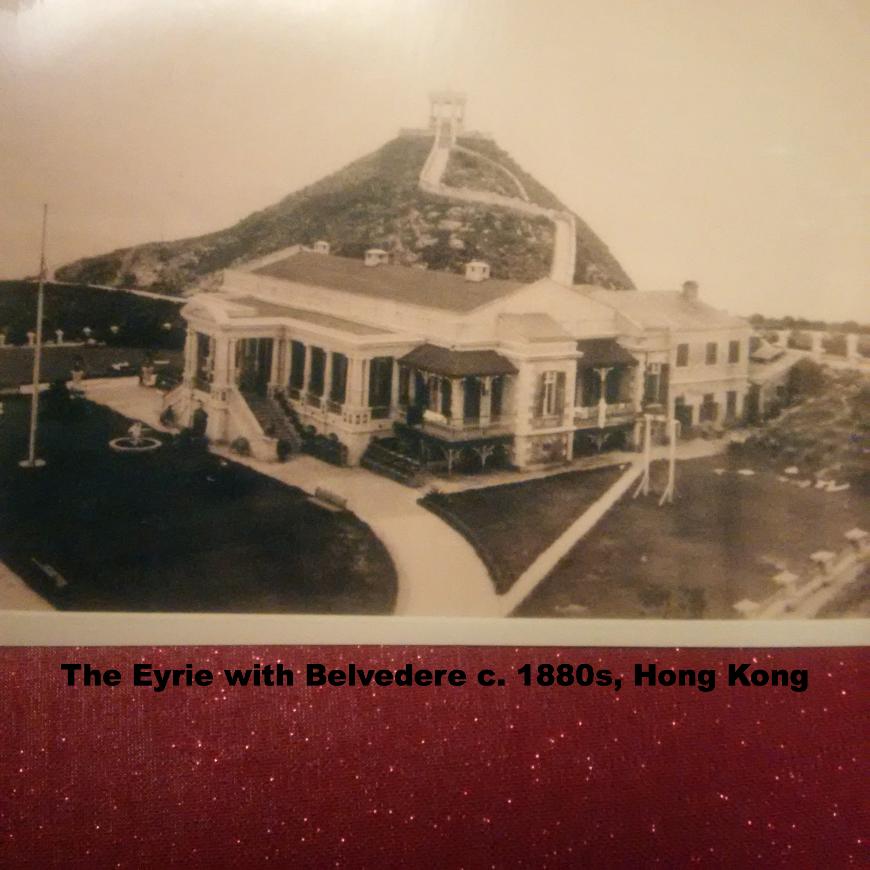 While researching my novel I discovered that the mansion known as Kingsclere was actually the second of that name. The original one was located about 15 minutes west on Caine Road boarded by Shelly Street. It was smaller but still occupied the equivalent of a city block. Could this be where Emanuel Raphael Belilios installed his second wife Mrs. Li?
While living at Caine Road ERB purchased the land at Kennedy Terrace offering it to the Jewish community to build a synagogue. Of course this was accepted but ERB wanted to build a house for himself there as well. When this condition was denied, he sued and lost. This necessitated the relocation of the synagogue's proposed site to his current location on 70 Robinson Road. In reaction ERB built the largest mansion in Hong Kong on Kennedy Terrace where he could look down towards Robinson Road and the rest of the known colony. A short walk from there and ERB would have arrived at his office on Lyndhurst Terrace.
In addition to Kingsclere (Caine Road) and Kingsclere (Kennedy Terrace), he also built a "getaway" called "The Eyrie" on the Peak. Public access usually stops at the cable car terminus but we found a forgotten path off Luguard Road that led us higher towards the old signal house Looking down from this lofty plateau is the huge footprint of what was once "The Eyrie". (see the pic below). The mansion had its own garden and a belvedere with a magnificent view of the harbor. But most importantly, it looked down on Mountain Lodge - the governor's summer retreat.
As with most palaces of its day, it was not unusual for ERB to host parties with 500+ guests on the best China decorated with his crest and of course with the finest silver. Did both his wives attend these functions? Which side of the banquet table would they occupy? I wonder ...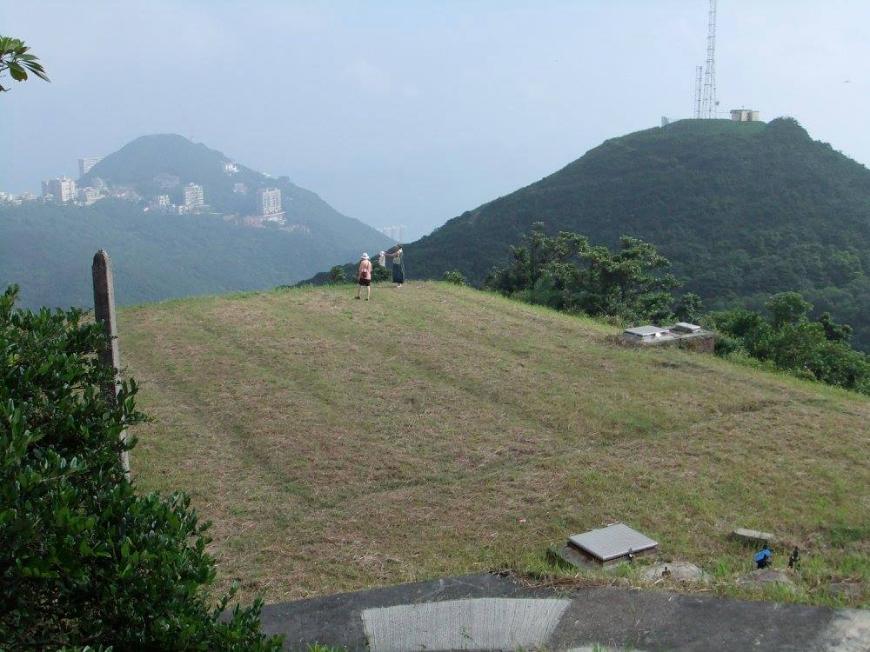 Above: The site of The Eyrie in HK 2010
Below: The magnificent Ohel Leah Synagogue on Robinson Road as it looks today.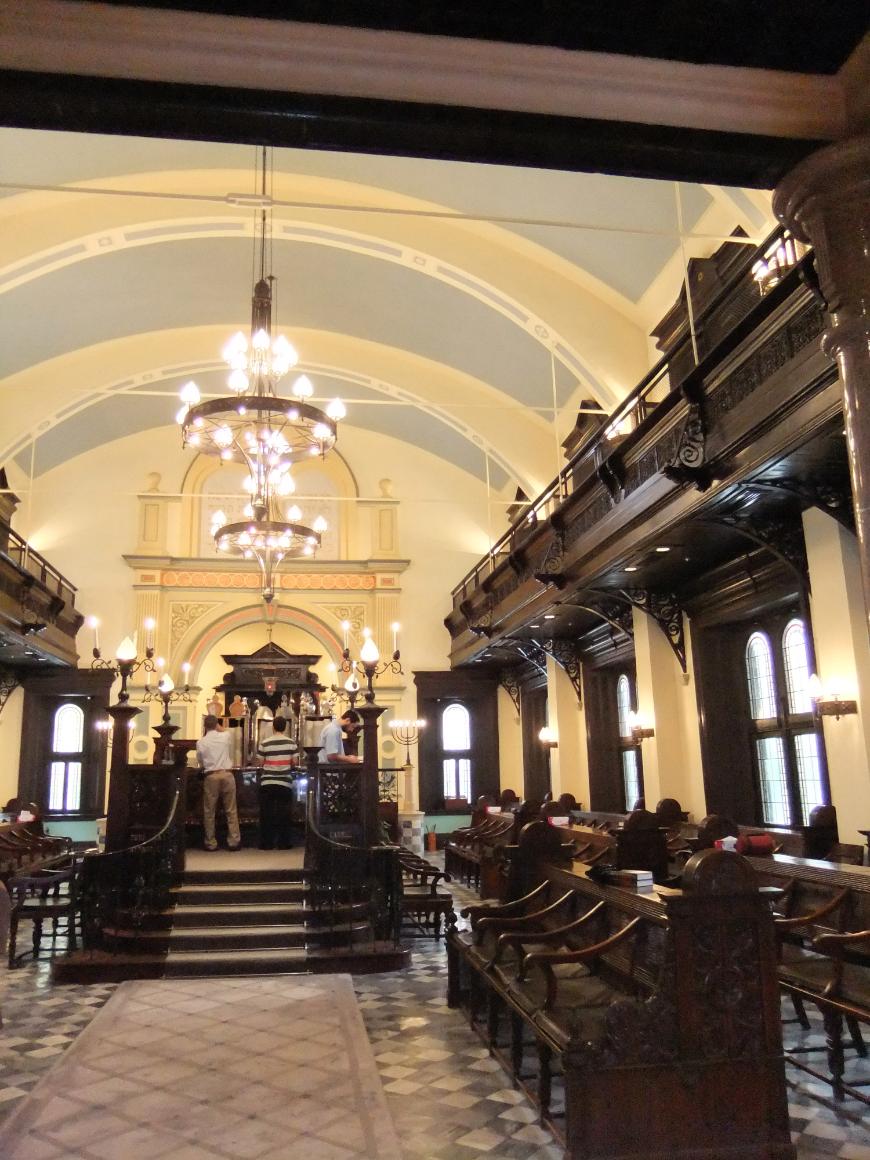 The House That Opium Built
BELOW: In Hong Kong, two views of Kingsclere circa 1900s all 114,000 sq.ft with Venetian influences, it dwarfed even the governor's mansion. It was destroyed in 1926 and is now replaced by high rise condos in an area call Kennedy Terrace.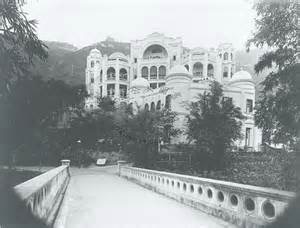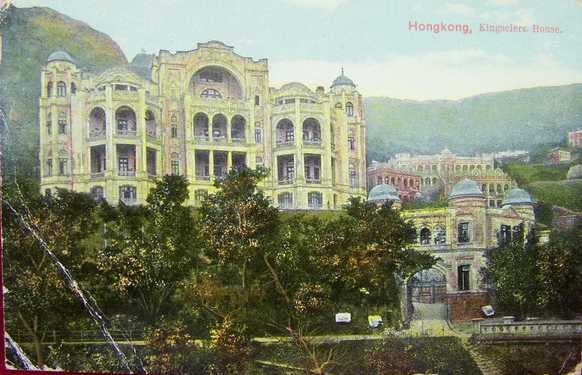 Spending more and more time in Hong Kong, Emanuel took a Chinese "wife". Oral tradition gives her name only as Mrs. Li. With her, Emanuel fathered at least one daughter - my grandmother Felicie. I say, at least, because there are no records of Mrs. Li's progeny although family photographs do place her with young women some of whom were probably her daughters. No one is certain of Mrs. Li's provenence except that she was Emanuel's lover and also took his last name (Belilios) as her's. She could have been a concubine or perhaps a "preferred woman" entitled to certain protections including a home. Her status is lost to history. And whether Emanuel and Li ever lived together is also uncertain.
There are records in the "HK Social Register" that reside in the HSBC archives in Hong Kong, that Semah (nee Ezra), Emanuel's first wife from Calcutta, was active at different philanthropic and social functions in Hong Kong towards the 1880s, placing her residence as "Kingsclere". But which "Kingsclere" remains uncertain. Prior to erecting the mansion above in the late 1890s, Emanuel also had residences on Cain Road and at Lyndhurst Terrace. Both locations were known as "Kingsclere". Semah had several children with Emanuel but it was during her time in Hong Kong that she gave birth to a son named David.
Model philanthropists, the family gave generously to hospitals, public works and education. Today Belilios school for girls still exists. In business, Emanuel rose quickly to take his place amongst the early Taipans of the rough and ready colony, rising to become a director and then Chairman of the Hong Kong and Shanghai Bank. He was also honoured by the Queen and given the title of Commander of St. Michael and St. George (CMG). But it wasn't all a bed of roses. Emanuel was a contentious person who seemed to use litigation as a means of accomplishing his personal goals. Records show lawsuits involving, businesses, individuals and governments. But none was more compelling than his litigation with the local Jewish community. In short, he wanted the land on Kennedy Road to be used for a synagogue but the community refused his offer. He lost the argument and instead of a Shul, he built a 114,000 square foot mansion.
Additionally, he built the Eyrie, a summer residence on the Peak, the highest point on the island. It was attractive not only for its location with its panoramic views but also because it looked down on the governor's more modest summer residence. Currently a new development occupies the location.
In 1898 tragedy struck. Emanuel's beloved son David died of the plague. He is buried in the Jewish cemetery on Shan Kwong Road in Happy Valley. A few years later, Emanuel was resident in London, England with his older son Raphael who eventually became a Member of Parliament. Emanuel died in 1905 and is buried at Golder's Green near London, England.
Shortly after her husband's desertion and death, Semah left Kingsclere and lived at the King Edward Hotel on Ice House Street. She passed away at the ripe old age of 90 in 1926. She is buried beside her dear son David in the Jewish cemetery in Hong Kong beneath an ornate and enduring canopy.
Li outlived her sister-wife. One of her daughters married Mr. Choa Po-sein a young and enterprising comprador. They lived at # 5 Broadwood Road until after World War ll. My mother was born at that house. There is no record of where Li is buried.
As you can see there are lots of gaps in Emanuel, Semah and Li's lives. As a novelist I had to find a way to piece together scenes that would make sense. I started with the conceit that they all lived together in a massive house the opium built.
BELOW: The Eyrie, Emanuel's summer residence on the Peak with a path to the belvedere.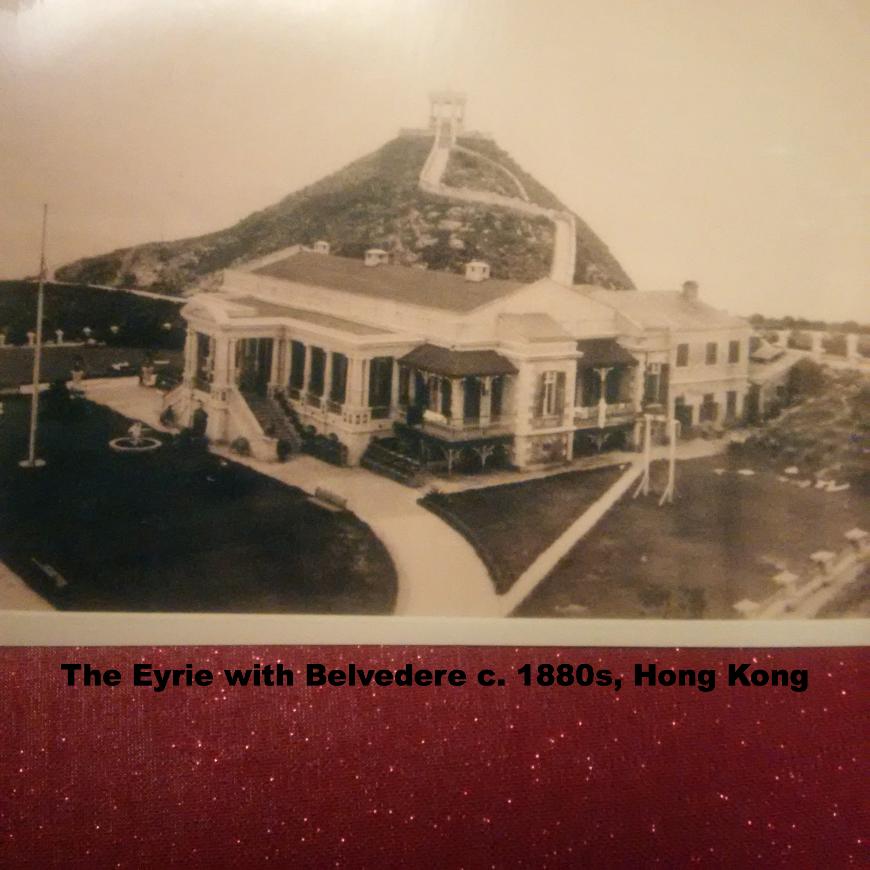 When my mother, just shy of her 100th birthday, passed away a few years ago, I found a box amongst her belongings that contained clues to unspoken, never to be discussed subjects about her life as a young married woman. Reading the material, I realized that I knew very little about own parents, less about my grandparents and almost nothing about my great grand parents. But here at last, her papers provided some clues in letters, diary entries and photographs.
Hungry for more details spurred two trips to India, China and Hong Kong as well as Vancouver and led me down myriad paths and dusty archives uncovering my family's cultural anthropology. Imagine my surprise to find out that we were Indian-Chinese-Jews that had converted to Christianity. Not only that, but great grandfather Emanuel was Hong Kong's foremost opium dealer and Chairman of the Hong Kong and Shanghai bank!
Along the way, I felt my mother's gentle hands guiding me in one direction or another to discover the things she could not or would not voice when she was here but somehow felt free to share now that she was at peace. As a tribute to her, I have added her maiden name Choa to mine because "The House of Wives" is the story she wanted me to find that I now share with you.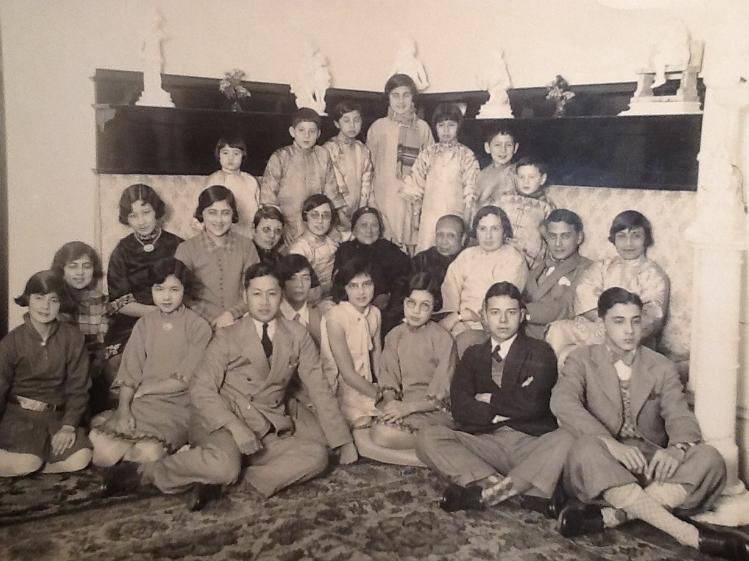 (Centre) Great Grandma "Pearl" Mrs.Li; (second from her left) Grandmother "Leah" Felicie Belilios-Choa, (seated at centre) my mother Pauline, in the Choa mansion, Hong Kong circa 1920s, surrounded by siblings, friends, cousins.
the foremost opium trader in Hong Kong
In 1862 my great-grandfather, a 25-year-old Sephardic Jew named Emanuel Raphael Belilios, left his home in Calcutta and set sail for the still-new British colony of Hong Kong, leaving behind his young wife, Semah. In the ship's cargo hold were chests containing opium he had purchased at a British government auction. His intention was to sell his lading quickly, make a fortune and return home to live comfortably for the rest of his life.
But when Emanuel landed in Hong Kong he was unable to sell his goods as swiftly as he had planned. Other opium traders who had established their businesses decades before had monopolized the ports of entry along the China coast. Ever resourceful, Emanuel found an alternate route. With the assistance of a comprador –– a local Chinese agent–– and a mulatto boatman, Emanuel accessed the Chinese interior through Macau, which in those days was a Portuguese protectorate. This strategy soon made him the foremost opium trader in Hong Kong.
Over the next two decades Emanuel's wealth increased, evidenced by the many properties in his portfolio. He had a residence at 13 Caine Road named "Kingsclere", offices at Lyndhurst Crescent, and a summer retreat called the "Eyrie" on the Peak. The best, of course, was yet to come. He had plans to build an immense mansion –– known as the second "Kingsclere", on Kennedy Road and to use part of the land to build a synagogue. During this period Emanuel also found time to take a Chinese lover, a woman only known as Li.
Next post: The House That Opium Built. Please sign up here if you wish to be notified when it is published.